Essential Fatty Acid (EFA) Deficiency Signs: dry mucous membranes, skin, hair, nails, tear ducts, mouth, vagina; aching joints and arthritis; lack of energy, motivation, and/or endurance; weak immune system; memory loss and forgetfulness (uh oh!!); cardiovascular disease.
In this day of fat phobia and the constant promotion of lowfat and nonfat food, intentionally supplementing with essential fatty acids (a fat) might be confusing. The thing you must understand is that EFAs are specifically identified as two oils Omega-3 (alpha-linolenic acid) and Omega-6 (linoleic acid). These EFAs are NOT contained in liquid vegetable oils you find on grocery store shelves or the oils used in restaurants and food processing.
Unless you consume high oil content fish like salmon, sardines, or mackerel a couple times a week (high in EPA and DHA Omega-3 EFAs), you should supplement each day with EFAs. Another food source besides fish, is flaxseed oil that has been processed at temperatures under 104 degrees. Be aware that sly marketing techniques of oil manufacturers and lax terminology laws make it so you have to play Sherlock Holmes to find a truly low-heat processed oil. Does the heat in processing make a difference?
YES! Heat, hydrogenation, bleaching, and deodorizing destroys a natural healthy long chain cis configuration by altering it into an unhealthy trans configuration that is implicated in both cardiovascular diseases and cancers.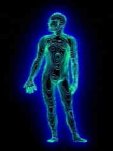 All cells in the human body are surrounded by a membrane composed of phospholipids made chiefly from EFAs. This membrane controls what goes in and out of the cell. Alterations in cell membrane is the central factor of cell injury, mutation (which can result in cancer), and death.
EFAs are also a critical component of your brain, inner ear, eyes, adrenal glands, and sex organs. One analogy is to think of them as the oil that lubricates and provides flexibility, then apply that functionality to what needs to happen in muscles, joints, blood vessels, lungs, hormones, reproductive functions, digestive system, etc. Now you probably get the picture as to why adequate EFAs are so important!
Most orthodox health-care practitioners may never make the association between a health symptom and essential fatty acid deficiency. Since surveys suggest that Americans may be as much as 90 percent deficient in EFAs, not considering EFA associated health symptoms and the simplicity of supplementing with EFAs is a tragic waste.